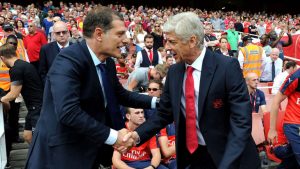 Slaven Bilic will be out to rub salt into Arsene Wenger's managerial wounds when the Hammers step out against the Gunners at the Emirates tomorrow night.
The Hammers boss of course has his own issues but Wenger appeared to be showing the pressure of a man under a season-long siege in the pre-match presser.
Humiliated in Europe and with only one Premier League win in the last four, the Arsenal fans have been in mutiny against the manager and FA Cup run has done little to calm the storm.
And as he questioned on his own and and Alexis Sanchez's future, the 67 year old looked irritated and troubled – all of which is good news for the Hammers.
Wenger also has injuries to cope with as both Koscielny and Cech are injured although he reported: "Chamberlain and Ramsey have a test today. There is a good chance they are back in the squad.
Troubled Wenger – with plenty of issues – continued to play coy on his future at the north London club after reporters quizzed him on a potential new deal.
"I have answered that question many times. You ask again. Don't worry, you will get that (answer) soon."
The 67-year-old was also irritated by questions on the future of Alexis Sanchez, whose contract is up at the end of the 2017/18 season saying: "He has one-and-a-half years (left on his) contract. I don't understand that debate.