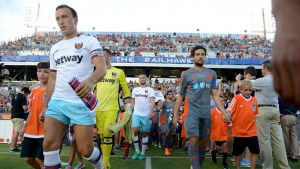 An army of over 5,000 West Ham fans stayed up until the early hours of this morning in an attempt to watch the Hammers play the Carolina Railhawks in a pre-season friendly.
Although the club didn't promote the internet stream they tweeted out that the match would be streamed on North Carolina broadcaster www.wral.com with audio commentary on an online radio station at  99.9 HD3.
1am came and there was no stream and no game. West Ham's official twitter posted a messages to thousands of fans in the UK saying at 1.06am saying "There is a slight delay to kick off tonight. We are awaiting confirmation of a live stream for fans outside the US"  That post was quickly deleted and the game kicked off around ten past one.
Four minutes into the game West Ham tweeted again "Our colleagues at RailHawks FC inform us they are working on getting the live stream running on their website" followed by the Railhawks official twitter saying "Fans we are working with @twcsportsncsc to get the game going on the right channel."
Most of us were listening to the American commentary which seemed to be more interest in talking about "Sir Bobby Moore" and the weather than what was going on in the game. Winston scored an own goal after 13 minutes but the radio station went to a long commercial breaks shortly afterwards missing both West Ham goals.  In some ways it was so bad it was pure comedy gold.
With no sign of a stream one American Hammer called @WestHamAmerican on twitter decided to step in the void by streaming the game from his mobile phone on social media platform Periscope. At on point nearly 5,000 fans were watching his grainy live stream. However his phone quickly ran out of battery and when he could down to 3% he ceased transmission.
West Ham finally got their act together just before the end of the first half and started streaming the game on facebook from a member of their media team using a mobile phone. It was better than nothing and the second half was streamed too until a storm suspended play on 62 minutes.
As the saying goes, only at West Ham. 😉
You can view the comedy facebook footage watched by over 42,000 fans here https://www.facebook.com/westhamunitedofficial/videos/1231552996877914/