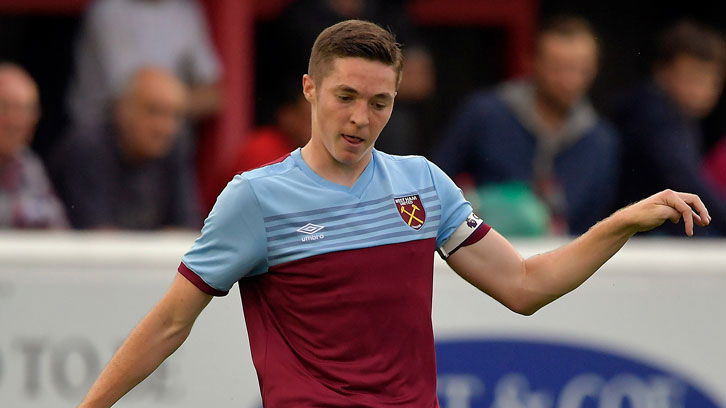 West Ham U18's were beaten by Fulham youngsters on Saturday lunchtime in a game which finished 1-2 with the consolation goal from teenage Hammer Kai Corbett.
The London derby defeat comes after a 4-1 loss against Spurs U18 last Saturday on the first day of the new Academy season and a 4-1 loss against Chelsea last weekend.  The U18's were unbeaten in five pre-season friendly games recording an impressive 10-0 win over QPR.
U18 West Ham Team that faced Fulham: Iyiola Adebayo, Freddie Botts, Kai Corbett, Michael Forbes, Junior Robinson, Sonny Perkins Krisztián Hegyi, Gael Kileba, Kamarai Simon-Swyer, Christian Veliky & Archie Woods
Subs: Remy Coddington, Divin Mulbana,  Jacob Knightsbridge
The Hammers U18 remain bottom of the Premier League U18 South division on zero points after three games.
The Under 23's were also in action this evening grabbing a late last minute 2-2 draw with Southampton
West Ham's development Academy side suffered a 3-0 loss to Spurs last weekend after a 1-0 loss to Chelsea on the first day of the season.
The West Ham U23s were promoted as Premier League 2 Division 2 Champions for the 2019/20 season.
At the time of football's suspension, the U23s were three points clear of their closest rivals with a superior goal difference and boasted an unbeaten league campaign in which they had scored 58 goals in just 18 games. All member clubs agreed on a PPG (points per game) system to determine the final rankings, which ensured the Hammers clinched the title.
The Hammers development squad were unbeaten in pre-season friendlies beating Cambridge 3-2, Leyton Orient 3-1, QPR 5-0, Maidenhead United 3-2 and Southend United 3-1.
West Ham U23 Team that faced Southampton: Joseph Anang, Emmanuel Longelo, Jamal Baptiste, Gonçalo Cardoso, Olatunji Akinola, Conor Coventry (c), ALFIE Lewis, Ashley, Sean Adarkwa (MesaqueDju 78), Oladapo Afolayan, Xande Silva (Bernardo Rosa 65). Substitutes (not used): Will Greenidge,  Daniel Chesters, Joshua Roach.
West Ham Goals from Oladapo Afolayan and Conor Coventry.
West Ham now sits second from bottom in division one with one point above Manchester United who have yet to score a point.