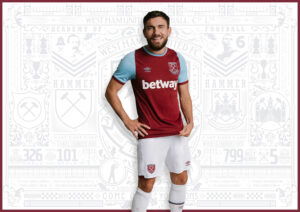 West Ham has announced a long term extension with Umbro that will see the sportswear brand remain the club's official technical partner and continue to produce all Hammers' kits.  As part of the agreement, Umbro will continue to provide official playing kits for both the men's and women's first teams and all academy age-groups. Additionally, Umbro will produce training products and leisurewear for players and supporters.
West Ham United Chief Commercial Officer Karim Virani stated: "The enhanced agreement represents the club's continued commercial strength off the pitch, which ultimately is for the benefit of things on the pitch. The new agreement places it amongst the biggest in football in this country.
"With Umbro working closely to our supporters' views on what they wanted to see from the kit in our 125th anniversary year, we feel that this partnership is really delivering for fans."
The previous partnership between the two entities was set to expire at the end of the 2022/23 season with West Ham recently signing a contract with Umbro in May last year. However, it seems that Umbro will remain the club's kit supplier past that date given the recent 'long term' announcement.
Sam Lucas, Head of Sports Sponsorship at Umbro UK, added: "This further extension is really exciting news for Umbro and we're proud to extend our agreement with the club. Our partnership continues to be built on the synergies between our Umbro brand and West Ham United as such an iconic football club. Our collaborative nature has allowed for a successful relationship over the past five seasons, and we look forward to that continuing.
"We're thrilled to be a part of such a big milestone for the club as they celebrate their 125th anniversary and it's been exciting to design and produce the kits that commemorate that milestone, creating more lasting memories for the fans."
Although no details have been released on the new deal. It is thought to run until the end 2024/2025 season meaning another fives seasons of Umbro kit and be worth up to £6m per season to West Ham brining in another £30m of revenue over that period.