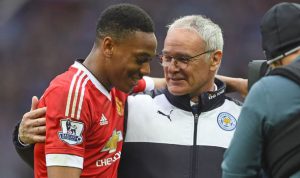 Reports over the past few days have suggested that West Ham could make a cheeky bid for Manchester United's Anthony Martial over the summer.
Martial has scored 15 goals in 56 Premier League appearances since joining the Red Devils in the Summer of 2015 from Monaco for £42.5m (€50m).
Details of Martial's contract were leaked earlier this year, with Monaco insisting on a number of clauses being inserted into the deal – and one of those has already been activated. The Ligue 1 side have received an additional €10m (£8.5m) after Martial bagged his 25th goal for Manchester United last month after he scored against Burnley bringing his transfer total to £51m so far.
Should he – as expected – win 25 caps for France, Monaco will receive further bonuses, and again if he is nominated for the Ballon d'Or bringing the total to £58m.
However, the Frenchman has only managed 18 starts for Manchester United in the season just gone, and his future seems in some doubt after apparently failing to impress Mourinho.
West Ham were linked with a loan bid in the January transfer window but new reports claim they would break the bank in an attempt to land the 21-year-old in the summer. How much Manchester United value their player remains to be seen they would want to recoup the £42.5m paid out so far for the youngster.