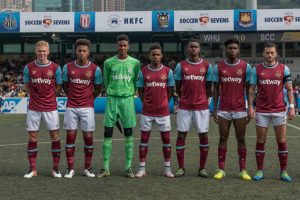 Premier League clubs West Ham United, Brighton and Hove Albion, Newcastle United and Leicester City will all be part of the HKFC Citi Soccer Sevens in May.  Championship Side Aston Villa will also join in the event which will run from 18-20th May at the Hong Kong Football Club.
Championship side Aston Villa, runners-up last year, have also committed to taking part in the event, bringing to 16 the number of international clubs this year.  West Ham have twice before reached the cup final.
The Hammers will also be joined by various teams from around the world, with the likes of Atletico Madrid, Bayer Leverkusen, Rangers, Hong Kong FC and PSV Eindhoven having competed in the tournament over recent years. The tournament involves 16 teams competing on pitches that are 90 metres long and 55 metres wide.