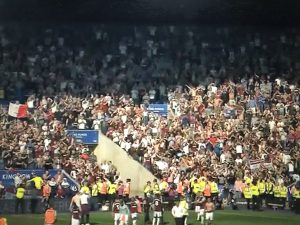 West Ham are mathematically safe from relegation from the Premier League following the Southampton draw against Everton this evening.
Following the Hammers 2-0 win over Leicester City there remained the remotest of possibilities the Irons could still go down as bookies lengthened the odds of a West Ham relegation to 200/1.
Before the Southampton and Everton game the only way that West Ham could go down if the Hammers lose their last two games against Manchester United and Everton – Swansea would need to beat Southampton & Stoke – Southampton would need to lose to Swansea but beat Everton & Man City and Huddersfield would need to get at least 3 points from Chelsea, Man City & Arsenal and close the goal Difference gap from ours by eight.
Southampton failure to hold on to a lead against Everton this evening meant West Ham will definitely play in the Premier League next season.