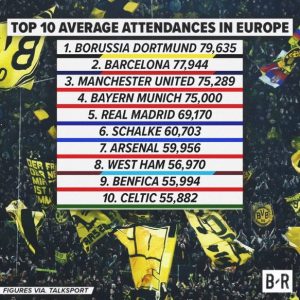 West Ham has the eighth largest average attendance in the whole of Europe this past season and third largest in England figures by Talksport have revealed.
With all games technically 'sold out', West Ham achieved an average league attendance (tickets sold) of 56,970 just 30 below their 57,000 London Stadium capacity.
Borussia Dortmund tops the European table with an average attendance of 79,635, Manchester United are third with 75,289, Arsenal has the sixth biggest average attendance with 59,956.
Earlier today West Ham Joint Chairman repeated the board's ambition to increase capacity  further for next season by saying "We are hopeful of starting next season with a new capacity up from 57k to 60k dg"
Last week operators London Stadium 185 admitted at the Supporters' Advisory Board that they have yet to make a formal submission to the Safety Advisory Board to increase capacity to 60,000 but remained supportive should they be asked.
With the first game at the London Stadium not scheduled until September, there is still time for such a request to be made and approved.