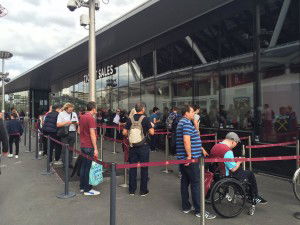 No West Ham away game has gone on general sale this season as demand for away games tickets continues to grow.  All away allocations have been sold out this season.
With the exception of one match, all games have been sold out to bondholders and season ticket holders with priority points.
Only Newcastle briefly went on sale for Claret members.  The away game against Spurs is also expected to sell out today to season ticket holders with eight or more priority points.
West Ham Away Games
Manchester United  3,000 allocation   Sold out to season ticket holders with 3 or more priority points
Newcastle United  3,000 allocation   Sold out to Claret Members. Available to all season ticket holders
Cheltenham Town 1.050 allocation  Sold out to season ticket holders with priority points (exact number not published)
Southampton  3,200 allocation   Sold out to season ticket holders with 6 or more priority points
West Brom  2,700 allocation   Sold out to season ticket holders with 6 or more priority points
Burnley 2,550 allocation   Sold out to season ticket holders with 3 or more priority points
Crystal Palace 2,900 allocation   Sold out to season ticket holders with 11 or more priority points
Spurs League Cup 4,800 allocation   About to sell out to season ticket holders with 8 or more priority points