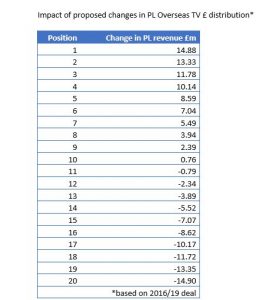 A report claims that West Ham along with Everton, Man City, Man United, Chelsea, Arsenal, Spurs, Liverpool are backing a change the way overseas Premier League TV money is split at a Premier League meeting in London today.
Premier League boss Richard Scudamore has been lobbying clubs over the distribution of the next round of multi-billion pound overseas TV rights before a new deal is done with foreign broadcasters.
Currently, the £3bn overseas deal for 2016-19 generates £39m a year for each club but the Hammers with the seven other clubs want that to change. Scudamore has drafted a new plan which would see 35% of the overseas revenue divided according to final league positions but predictably it has been met with resistance.
However, with the approval of 14 clubs needed to make such a change to the system the clubs who back the change need another six clubs to back them. The Premier League is keen to reach a quick compromise with all twenty clubs before going into domestic rights negotiations.
A senior source close to the club told Claret and Hugh: "We do not think they'll get the numbers, but as ever the top 6 clubs are threatening to go their own way if they don't."
The table above shows what the proposed change would do if it were applied to this seasons TV money with the top ten gaining and the bottom ten losing out.