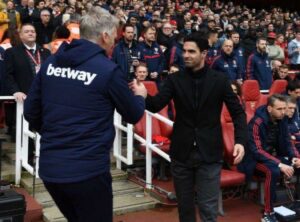 A report by Sky Sports claims that West Ham have banned all media activity including the planned pre-match press conference due to be held by David Moyes at the London Stadium today.
Sky say "West Ham have cancelled all media activity for Friday, Manager David Moyes was due to speak to the press this afternoon ahead of Sunday's home match against Wolves"
The Premier League are due to hold an emergency meeting at 10.30 am this morning after Arsenal manager Mikel Arteta and Chelsea player Callum Hudson-Odoi tested positive for the Coronavirus with both squads now self-isolating.
Everton's first-team squad are in self-isolation it has been announced this morning after a player reported Coronavirus symptoms while the Merseyside derby with Liverpool is set to be called off
West Ham played Arsenal five days ago at the Emirates with Arteta coming into direct contact with David Moyes.
The West Ham press office have yet to confirm the Sky report on the press conference cancellation or whether David Moyes or any first-team squad are being tested or self-isolating after contact with the Arsenal manager last week.