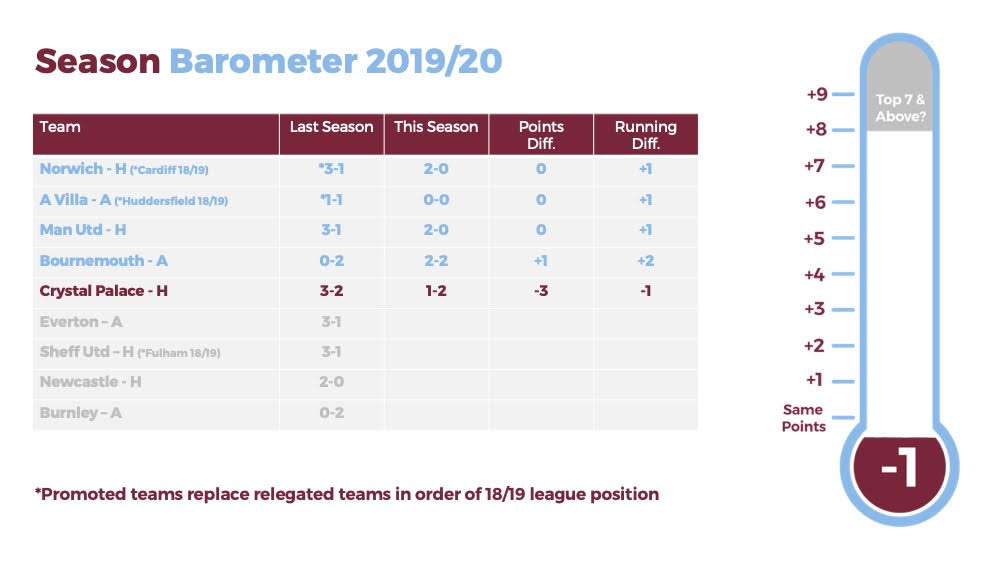 While West Ham currently sits in eighth place in the Premier League table ahead of ninth-placed Spurs the West Ham barometer looks at corresponding games last season matching newly promoted teams against relegated teams in order of their final 2018/2019 league position.
After eight games West Ham are now one point worst off in the corresponding games. The Man City defeat was no surprise although we conceded one extra goal compared to last season. We fared better against Brighton with an away point after losing one-nil last season. Wins against Watford away and a home win against Norwich City (matched with Cardiff City) with our Aston Villa point paired with Huddersfield from last season in which we drew 1-1 away from home.
A home win over Manchester United matched last season's feat but an away draw over Bournemouth improved on a two-nil loss from last season moving the barometer up by one point. The loss against Crystal Palace moved the Hammers down 3 points leaving them one point adrift compared to last season.
With wins over Everton away, Newcastle and Fulham (paired with Sheffield United)  last season we need to win all three games just to remain one point behind last season.
Graphic produced by Andy Dennis exclusively for Claret and Hugh