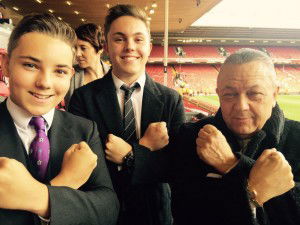 Fifteen year Jack Sullivan, son of West Ham Chairman David Sullivan has revealed West Ham can increased their capacity beyond 54,000 if there is enough demand.  Asked by Hammers fan Alfie Sharman "Can the Olympic Stadium be more than 54,000  if we keep selling out?"  Jack simply replied 'Yes it can!"
The Olympic Stadium has reduced from 80,000 seats to around 66,000 seats with up to 12,000 of those screened off in football mode but Jack's comment appears to confirm West Ham have the ability and ambition to go beyond 54,000 if demand is there.
Planning permission and the stadium safety certificate currently restricts capacity to 54,000 but both those could be remedied if West Ham and Stadium owner E20 Stadium LLP wanted to.  They might need to add extra toilets and facilities but again this should prove a major challenge. If capacity did increase to 66,000 it would make West Ham's rented stadium the largest  in the Premier League in London surpassing the Emirates and Chelsea & Spurs planned stadiums. It would become the second largest stadium in the Premier League behind Old Trafford.