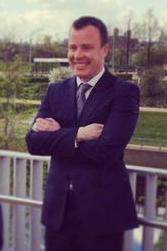 Participants of charity football matches at the Boleyn ground were told yesterday that West Ham had made the decision as they must re-lay the pitch earlier than usual to ensure it is ready for Europa League matches should they qualify by the Premier League Fair Play table.
A statement by one event organiser on their website said: "It is with deep regret we inform you that West Ham United Football Club have advised that they have cancelled this year's pitch events. The reason given is that the club could be eligible for next year's Europa League and the pitch will therefore have to be relaid earlier than usual."
It is understood that West Ham Managing Director Angus Kinnear pictured above wrote to all event organisers cancelling all pitch events in May and June. Several charities have voiced they will be financial disadvantaged by the club's decision.