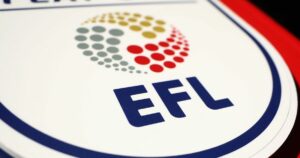 If West Ham is relegated to the Championship the start date of next season is less clear with a restart date to conclude this season yet to be confirmed.
With twenty-four clubs, the Championship usually starts one week before the Premier League and was scheduled to restart on Saturday 1st August but this will no longer happen.
Although no restart date has yet been set the EFL say they still hope they can also restart in June although they are likely to be some way behind the Premier League who have resumed contact training.
There is talk of a radical plan that the Championship could be split into two regional divisions next season which a promotion place up for grabs for the two clubs that top them.
A Southern league could see West Ham play against Norwich, Aston Villa, Birmingham, Brentford, Bristol City, Charlton, Fulham, Luton, Millwall, QPR and Reading.
With twelve teams in each regional league, West Ham would play just 22 fixtures in that scenario with just eleven home games at the London stadium.
The second and third place in each regional league could play each other in play-offs to decide the third Premier League promotion place.