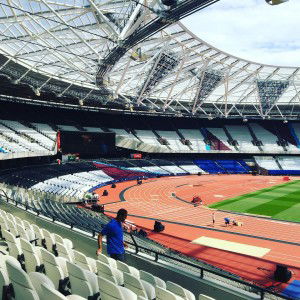 The Daily Mail claim today that West Ham could face another season of disruption at the London Stadium in 2022 due to a bid for the European Athletics Championships.
UK Athletics chief executive Niels de Vos told the Sport Industry Breakfast event he intends to take advantage of a clause in West Ham's concessionaire agreement allowing the hosting of a major event every five years by probably bidding for the European Athletics Championships in 2022.
The paper claim with the 2022-23 season expected to start early because of the World Cup in Qatar in December 2022, another nightmare scenario is facing the Hammers. The capacity attendances throughout the recent World athletics championships would make London hot favourites to win a Euro bid.
In reality, apart from the recent IAAF World Athletics Championships the Hammers have a cast iron legally binding 'Overriding Priority Principle' with their agreement with stadium owner E20 Stadium for all competitive matches within a football season.
The contract clearly says West Ham take precedence over any activity, event or use of the stadium from the end of July. West Ham has the ability to object to any scheduled event they believe is detrimental to the club or the playing surface.  The Stadium owners would need to compensate the Hammers all liabilities, damages, expenses, losses and legal costs for a breach of the overriding priority principle clause.
What this means is the stadium owners are effectively unable to stage a major sporting event which would clash with the start of the football season without West Ham's full agreement and backing so the Hammers have the equivalent rights of Veto.
Clause 6.2 of the agreement does say that major sporting events can be staged once every four years but West Ham must have two years notice and must agree to the event where the 'overriding priority principle' comes into play. West Ham have the rights to suggest alternative dates for the event. The Hammers must act in good faith and use reasonable endeavours in considering re-arranging matches or seeking special dispensation from the football governing body but the tall and the short of it is, if they don't agree it won't happen!