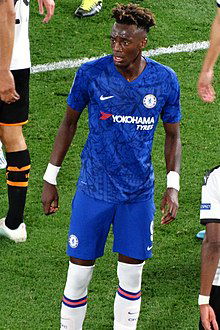 It seems that whenever Simon Jordan makes make one of his regular appearances on talkSPORT he finds it necessary to say something derogatory, or at the very least, unhelpful about the Hammers.
He's made it clear he's no fan of the owners and it seems that whatever issues may be in the current footballing scene the Irons are always on his mind.
Tammy Abraham has been regularly linked with us over recent weeks and was recently reported by The Telegraph as having been put up for sale with – in some places a £40 millions transfer fee attached.
Most would consider Abraham among the better strikers in the country but according to Jordan he is TOO good for the Irons – talk about insulting a club which is clearly on it's way toewards the top level..
But commenting  on the radio station he claimed that whilst not being fancied by Chelsea he is good enough for Barcelona and too good for us!
He said: "Tammy Abraham can operate at that (top) level if he's given the opportunity to do so. That opportunity is not going to come at Chelsea
"I don't think, with due respect, it'll be West Ham because he'll have different aspirations. I could see him at a club like Barcelona or a club in Italy or one of the top six in this country. This boy could play in the Manchester United side."