The subject of West Ham's finances and question debt has been raised again after the chairman's son Jack Sullivan claimed the club was still £100m in debt. Speaking on twitter Jack posted "The club is still 100m in debt!!! Both Daivd's haven't taken a penny out of the club and have but in 30 million each."
David Gold then followed up a question about the debt today responding to fan who accused him of lying "We never said we would be free of debt, we said we would be free of BANK debt which we now are. dg"
West Ham earned £85.7m in Premier League TV money last season and is thought to have pocketed another £38m from the sale of the Boleyn Ground to property developers this summer.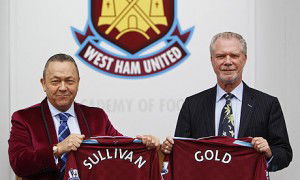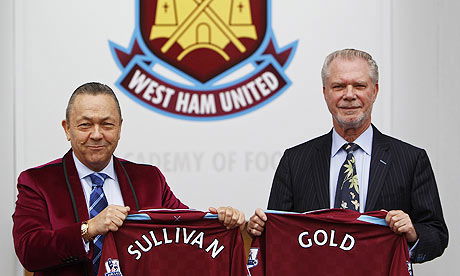 West Ham were required to pay out £15m to stadium owners E20 Stadium LLP as part of their agreement before they moved to the former Olympic Stadium and have forked out another £8m in WestHamification costs and the club's new store fit-out of which a £3m contribution was made to the change some of the seats to Claret and Blue.
West Hamare understood to have used the £15m surplus of the Boleyn Ground sale to pay off some their bank debts which totalled in £32.3m when the 2015 financial accounts were published. As the bank loans were mortgaged against the Boleyn Ground the club needed to find an additional £17m to pay off all the bank loans before they handed over the keys to their former stadium in July.
Both Chairman have loaned the club £49.2m in share holder loans which have accrued approximately £12.3m in interest calculated at rates between 6-7% totalling £61.5m owed to the primary shareholders if they ever decided to cash in.
Claret and Hugh understand West Ham have third party debts of an additional £40m which lower than previous years but much of this debt to owed to other clubs in transfer fees paid over several years. For example we are still paying installments for Andy Carroll. It quite normal for a club of our size to owe this amount of third party debt and good business to spread transfer fees over a number of years if the selling club will agree to it.
If you add the shareholder loans with interest together with the third party debt you do reach £101.5m of debts but it is not the same as the £110m in debts  Sullivan and Gold inherited when they took over in 2010 with £50m owed to the banks, £40m owed to other clubs and £20m owed to Sheffield United over the Carlos Tevez affair.
In reality West Ham could only really clear £110m in debts if it made £110m in profits over the past six years.
West Ham lost a combined of £48m in 2011, 2012 and 2013  and a made combined profit approaching £1om in 2014 and 2015 which leaves a net loss £38m over that period. Turnover has increased from £71m in 2010 to £120m in 2015 which has helped counteract those losses but costs such as players wages and other outgoings have also increased during that time period.
So basically we have transferred our debt from the banks to the club's two principle shareholders while our third party debt remains broadly inline of what it was and should be for a club our size.