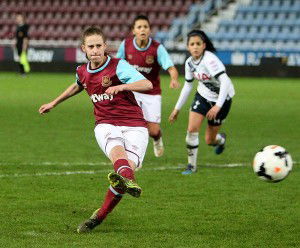 West Ham Ladies repeated the feat of the West Ham men last Wednesday by beating Spurs Ladies 1-0 at the Boleyn ground last night! A record 1,741 fans attended the game under the Boleyn ground famous lights smashing the previous home attendance record of just 298!
West Ham Ladies Chairman, Stephen Hunt said " Stunned to hear that our game last night beat the attendance in 9 of Dagenham & Redbridge's FC League 2 fixtures this season"
West Ham chairman David Gold added: "Congratulations West ham Ladies you did us proud. Well done. dg"
West Ham ladies Captain Katie Bottom scored the only goal of the game from the penalty spot in front of the crowd of 1,741 at the Boleyn Ground.
Katie works for West Ham United, supports West Ham United as well as captaining the West Ham Ladies. Today is her 23rd birthday!  What an amazing 48 hours. Happy Birthday Katie!
Watch her spot kick winner below!