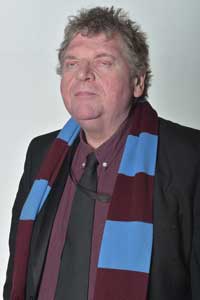 Blind Hammer looks at a previous Genk clash.

For all my life I have supported a club that tends to look backwards rather than forward
This may finally be about to change.
Ironically we need to look back just one more time to understand why.

In the historic 1964 European Cup Winners campaign West Ham coincidentally faced last week's opponents Genk.
Then it was a much more hard-fought affair.
A 1-0 away victory meant that a 1-1 draw at Upton Park was sufficient to allow the Hammers to progress. A Martin Peters own goal was cancelled out by a Johnny Byrne equaliser.
In goal was stand-in keeper Alan Dickie but apart from that, the side reads like a Who's who of West Ham greats.

John Bond
Bobby Moore
Ken Brown
Eddie Bovington
Martin Peters
Ronnie Boyce
Johnny Sissons
Peter Brabrook
Geoff Hurst
Johnny Byrne

Including Johnny Byrne and Peter Brabrook, 5 of these 10 were either current or future England internationals
This West Ham side went on to memorably lift the trophy, only the second English side since the 1955 start of European Competition to do so.
West Ham then reached a global audience when the core of that side produced a Captain, a hattrick hero and midfield poacher in the World Cup Final.

Yet Ultimately this legendary side failed to realise the promise their talent offered.
West Ham never grew the big club structure to regularly compete in the league. We were the 4th club in London and occasionally had even this threatened by a Rodney Marsh and Gerry Francis inspired QPR.

This may, however, be about to change. 56 years ago The faithful roaring on West Ham against Genk numbered only 24,101.
In contrast, the numbers packing in at the London Stadium last week was 45,980. Nearly twice as many.
Our current season ticket allocation dwarfs the biggest crowds possible even with packing in standing supporters in those days.
West Ham is growing before our eyes, obvious to even a blind man like me.
Each week we succeed in Cup competitions we draw in new supporters, outside of our season ticket base.
Each time we achieve the excitement of a European night under lights at the LondonStadium we win more hearts to the cause.
This side has won nothing yet but just maybe, this is not another false dawn.