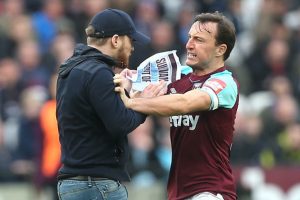 Reports that West Ham could face up to a ten point deduction or up to three home games behind closed doors have been described as far-fetched by a source close to the FA this evening. The Football Association said it would be seeking observations from West Ham as well as awaiting the match referee's report.
West Ham is likely to be charged with rule E20 which carries a standard penalty of £20,000 or £30,000 if the charge is not admitted although heavily fines and extra sanctions can be applied by an independent three-man panel.
FA Rule E20 requires clubs to control their players, staff and supporters but a points deduction for such an offence would be extremely rare and a sanction of playing a game behind closed door for a first offence would also be rare.
The F.A could impose extra security precautions for future home matches at the London Stadium with the Daily Mirror claiming that David Sullivan told them "We feel very badly let down by the stadium operators appointed by the [London] Mayor's staff"
A source close to the FA told Claret and Hugh tonight that if West Ham is likely to receive a heavy fine with the possibility of a suspended sanction of playing a game behind closed doors if found guilty again of failing to control supporters.
In 2010 the Football Association has fined West Ham £120,000 for failing to control their fans at the Boleyn Ground after violence at a Carling Cup tie against Millwall in 2009.