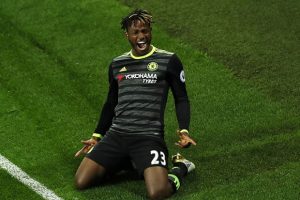 West Ham, Glasgow Rangers, French side Monaco and Sevilla of Spain are all keen to snap up the 23-year-old Michy Batshuayi this summer with the player insisting he needs regular game next season.
Chelsea refusing to allow wantaway Michy Batshuayi's transfer until they sign a new striker.
Batshuayi has reportedly said: "Everyone knows that I have to play more, that I have to score goals. There's a World Cup coming up next year. I want to be ready for the World Cup.
"But I'm not going to ask anything. I'm going to listen to what they are saying. They are the boss, not me. And afterwards I'll discuss it with my agent and the club. Amicably, as friends. Of course.
"A loan? That's not up to me. That's up to them. They take the decisions, not me."
As we reported yesterday Chelsea's £80m landing of Romelu Lukaku on wages of £150,000 per week could be the lynchpin to allow Batshuayi to leave the blues.