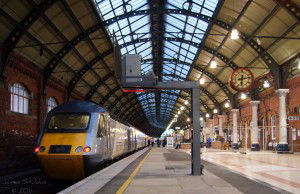 A drunk West Ham fan who threatened to punch a cleaner at Darlington train station has avoided being banned from future football matches. Jonathan Owen Lamb from Kings Lynn in Norfolk, pleaded guilty to two public order offences when he appeared at Newton Aycliffe Magistrates' Court yesterday.
The West Ham fan was travelling home after a match in Newcastle when he became aggressive while waiting at Darlington train station on January 17th. Lamb started shouting and swearing after being refused service to buy four cans of Stella Artois.
The court heard he had already bought four cans 15 minutes earlier and when he was refused service threatened "to nut" another man.He then went into the women's toilets and when asked to leave by a female cleaner, threatened to punch her.
Chris Atkinson, prosecuting, asked for Lamb to be banned from football matches. Magistrates decided against the order, instead giving him a 12 month community order. He was also told to pay the cleaner £100 in compensation and £145 in costs.