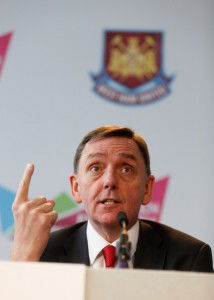 Self-proclaimed West Ham fan Sir Robin Wales could lose his mayoral seat in Newham this year for the first time in 16 years.
In the second ballot by East Ham and West Ham Labour party affiliates, voters opted against the incumbent mayor, Sir Robin Wales, automatically becoming the candidate for May's elections. In December 2016, an initial ballot ran to decide whether Sir Robin would be put forward automatically, or whether there would be an open selection process, giving others the chance to run.
Sir Robin won with 20 votes to 17 thanks to most affiliates backing him – but 11 out of 20 Labour electoral wards called for the involvement of other candidates. After legal action was launched, he called for the first result to be scrapped. The vote was re-run and it was announced on Monday morning that this time round, voters had opted for an open selection process.
The election for the mayor of Newham, along with ward councillors, is set to take place on Thursday, May 3.
Late last year Newham pulled out of London Stadium ownership company E20 Stadium LLP after investing more than £50m of taxpayers money including a £40m loan.