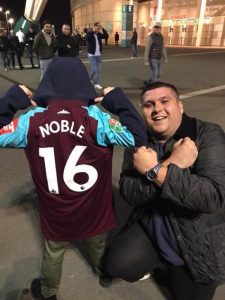 A West Ham man has found fame after taking a spectacular fall on live TV after the Carabao Cup clash with Spurs at Wembley.
Lee Williams dived to try and catch Mark Noble's shirt, which the West Ham skipper had thrown into the crowd.
The fall was caught by the Sky Sports cameras and soon became viral on social media.
 Lee told the Maldon and Burnham Standard  "It was a great laugh," he said.
"I didn't get the shirt in the end, but I still took a whack. I normally have my nieces and nephews with me, so when a player throws a shirt in I try and catch it and pass it on to them.
"They weren't with me last night because of it being a night game and it being Spurs, you never quite know what is going to happen." 
 "I've no idea who this lad was. I didn't know him before last night, but he was sat two rows behind us and we agreed to give him the shirt. It is the right thing to do. I have had about 20 calls so far this morning from people who saw me take the fall. It has been relentless.
"But it was a fantastic experience, and that is what you get following football teams home and away."
Lee reavled he has no lasting injuries following the fall saying: "I'm a big lad, so I bounce quite well. No injuries fortunately."
Mark Noble killing a man pic.twitter.com/6cKXkSn6C3

— Max Baldwin 🌐 (@maxbaldwin16) October 25, 2017