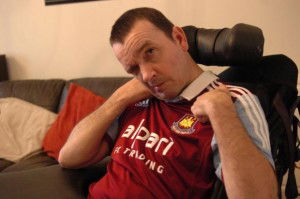 A mother has made an impassioned plea for justice after callous thugs beat her West Ham supporting son so savagely he was left with permanent brain damage eight years ago today. Marcus Bouskill was 34-years-old when he went to the Racks Snooker Club, in Well Hall Road, Eltham, with friends on Saturday, February 23rd 2008.
Marcus was viciously attacked after an argument escalated and spilled out on the street. The father-of-one was set upon by a group of 'between eight and 15 men', who punched, kicked and beat him with weapons. He sustained a devastating head injury, but it was not until Tuesday that he received medical attention. His mother, June Middleton, 67, told News Shopper: "Marcus' mate and this guy started fighting, Marcus went up and said stop fighting.
"Marcus then got attacked by between eight and 15 fellas with snooker cues, they got him outside and started kicking him, someone hit him unconscious." She said after the beating a friend put him in a cab and sent him home, where he lay for four days before receiving medical attention. "Several times they had to resuscitate him. He had a broken nose, one of his eye sockets and cheekbone were broken."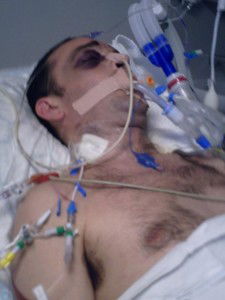 He lay in a coma for six months, and doctors told the family it was 'touch and go'. But he was left severely brain damaged and can no longer walk, talk or look after himself.
Re-appealing for information, Detective Inspector Warren Arter said: "He was assaulted resulting in a serious head injury from which he never recovered. It is clear that this was a cold, calculated, attack."
Appealing on the eighth anniversary of the attack, his mother fumed: "I would like to see somebody to pay for what they've done to him. Why should they leave Marcus like this? They're living their lives as if nothing happened. It's hard seeing him when he's been left like this. He was a happy boy and always positive about life. Honestly he had a heart of gold.Everything changed overnight, they left him for dead. His life is ruined."
She vowed to continue with her fight for justice.
The great-grandmother of two added: "If this appeal doesn't work I will definitely try again because someone has to pay for what they did.I'd be so grateful for any sort of information to help us find the people who did this to him.He doesn't understand what's happened."
Police wish to speak to anyone in the Well Hall Road area around midnight on Saturday 23 February 2008.
Anyone with information is asked to contact police on 101 Crimestoppers anonymously on 0800 555 111.