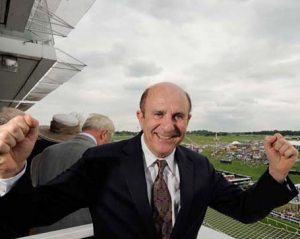 A new book has named a West Ham fan Michael Tabor, who once tried to buy the Hammers as one of world football's biggest money lenders.
The 75-year-old was born in Newham and educated at East Ham Grammar school.
Tabor, part of the John Magnier-led Coolmore Stud organisation, filled the void when Investec bank withdrew loans to football clubs in 2011 because of the risks involved. He began by advancing money to Spanish clubs Atletico Madrid, Deportivo La Coruna and Getafe.
According to Football's Secret Trade by Alex Duff and Tariq Panja, published by Bloomberg, Tabor has loaned considerable sums to West Ham as well as Everton, Southampton, Fulham and Reading through his Vibrac Corporation based in the British Virgin Islands.
The book claims former bookmaker Tabor, who made his fortune when he sold his chain of betting shops to Coral in 1995, advanced as much as £100m a year to clubs in England and Spain between 2011 and 2016, earning himself an estimated return of £60m. The only hitch was when Reading, who loaned £10m against parachute payments, ran into ownership problems.
The Premier League had no problem with Tabor advancing their clubs money, provided the source of the funding was known to them. They have since tightened money-lending regulations in a bid to stop off-shore lending next season.