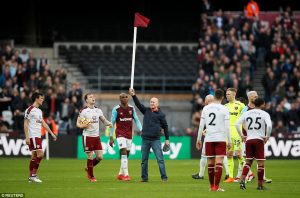 Newham's Safety Advisory Group minutes have been published for the West Ham v Burnley game with questions being asked by supporters whether those presenting figures were actually at the game.
The minutes claim "They recorded 152 separate incidents around the stadium, CCTV investigations are ongoing. Of these 50 have been classed as public order related. 20 response teams were deployed to deal with other issues"
Claret and Hugh have been told that those 152 incidents included the release of black balloons, a crying lost child and smoking in the toilets.
They claim "Around 9 or 10 people moved onto the field of play with stewards working to try to stop them. It was reported that fans warned stewards to 'keep out of their way'. Protesters moved outside the directors box from blocks 113 and 114. From the CCTV evidence, it appeared that once the ball hit the net for the first goal, large organised groups all moved in unison and it all looked preplanned."
They add: "Streams of fans from bock 114 moved to the concourse and there were limited numbers of stewards in the area, which is the normal BAU layout. During this time, LS185 stewards and security were dealing with up to 30 incidents at any one time and around 150 significant issues around the stadium throughout the event "
Note from Sean:  As a season ticket holder in block 113 caught up in the events at West Ham v Burnley I completely refute many of the allegations made in the official minutes. An exaggeration at best and fabrication at worst. Yet again West Ham fans are blamed again for the end result of poor stewarding and stadium operations.
The full minutes can be found at https://www.newham.gov.uk/Documents/Business/SSAGMinutes15March2018.pdf