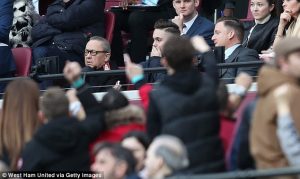 A Claret and Hugh poll of 1,926 supporters show a majority say they are prepared to put their grievances aside until the summer by calling a truce with the West Ham board. A total of 1,345 supporters just under 70% say they are prepared to call a cease-fire with the board until the summer to help the club avoid a disastrous relegation. Just over 30% or 581 fans say no truce or cease-fire with the board should be called.
Hammers Captain Mark Noble himself has pleaded with fans today on WHUFC.com saying 'show that passion, get behind the team and we'll try and do something in the summer'
Various fan groups are still planning static demonstrations, a vote for reinstatement of the march and boycotting game but what any of that can achieve before the summer is unclear to many supporters. The reality is the club can't be sold by the summer even if the owners wanted to sell, we can't sign new players until the summer when the transfer window opens and we are unlikely to significantly improve the London Stadium by the summer while we remain in legal dispute with them. The only sensible solution seems to be getting behind the team to avoid relegation. The board can be held to account by unhappy fans after Premier League survival has been achieved.