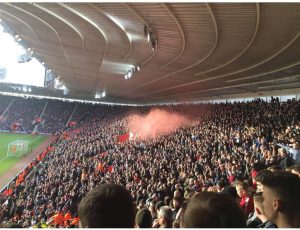 West Ham away fans set off a red pyrotechnic at St Mary's stadium yesterday during the Hammers 3-1 win. The Hammers are not usually connected with the use of smoke bombs or flares – such incidents and the involvement of pyrotechnics remain rare.
Being in possession of a pyrotechnic device at a football match, or attempting to bring one into a football stadium, is a criminal offence under the Sporting Events Act 1985. Any person committing such an offence faces arrest and can expect the Court to make a Football Banning Order
Research, which was conducted with 1,635 Premier League supporters, found that 87% of fans believe that pyrotechnics such as flares and smoke bombs are dangerous at matches, and that 86% were concerned for their safety. The same number (86%) think flares and smoke bombs are a fire risk and 79% consider them to be a health hazard.
More info can be found here Face Pyro Facts www.facepyrofacts.co.uk
Class ⚒⚽️❤️ pic.twitter.com/r3oGe0jEKC

— Dylan Bregman (@breggertelli) February 4, 2017