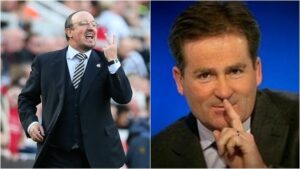 One time Sky presenter Richard Keyes is not my most favourite former high profile individual.
He and his mate Andy Gray's sacking from Sky over sexist remarks was well earned although it doesn't seem to have stopped them earning a decent living in the Far East.
They still operate  for a TV station out there but like former big time personality Ron Atkinson -fired from terrestial TV for racist remarks – there's no way back to UK broadcasting.
Keyes has a big bunch of opinions he still presents on his personal blog and in the past while his big buddy Sam Allardye was at the Hammers he regularly gave him the big one.
Indeed, it almost seemed as if he had become his personal mouthpiece but never mind. That's all over now.
However, his latest views on the possibility of Rafa Benitez taking over at West Ham are interesting – even though it's unlikely to happen.
Writing on his personal website he said: "He (Benitez) left (Newcastle) for a fat salary and having done his best to create havoc for his successor. Why didn't he leave at the end of last season? He knew he was going in May.
Why wait until pre-season training had started, therefore restricting the time Bruce had to get to know his team – to plan and work the transfer market?
"If I were a West Ham fan I'd be shuddering at the prospect of Benitez turning up in east London. If you thought it was bad under Big Sam you ain't seen nothing yet guys. And how do you think Benitez would get on with Karren Brady? Yep. Me too."