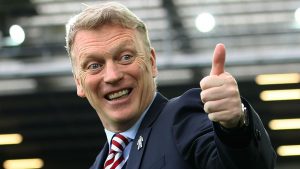 The majority of West Ham fans would still prefer a change of manager this summer despite David Moyes efforts in improving fitness and discipline of the squad as well as guiding the Hammers to Premier League safety.
The Scotsman finished strongly with seven points from three games in the final three games but it appears to be too little too late as far as West Ham supporters are concerned.
A fresh poll on Twitter in the last 24 hours of 1,510 Hammers fans shows 74% do not want the board to renew his contract while 26% back him to continue as manager next season.
Moyes is technically out of contract from West Ham but he still found time to speak to David Sullivan on the telephone on Monday morning to have his normal post-match debrief with the Chairman.
Sullivan has already interviewed Paulo Fonseca on Monday evening and is expected to interview Unai Emery later this week.
Insiders insist David Moyes will still get an interview as the third managerial candidate and we are told that he still has a 25% chance of landing the West Ham manager job next season. A decision and announcement are expected in nine days time.