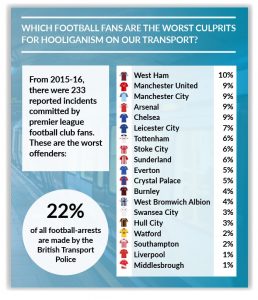 Research conducted by ticketgum into a Home Office news release reveals that while football-related arrests have decreased over the last five seasons, the number of incidents on the transport network has risen for a fourth year running with West Ham the worst offenders.
The three most common football-related offences are public disorder (60%), alcohol offences (20%) and violent disorder (16%).
The statistics show that over the past five years there has been a decrease in the number of football-related arrests across the country, from around 2,400 in 2011/12 to 1,895 in 2015/16, the most recent season charted.
However, incidents on public transport have continued to rise, with 22 per cent of all football-related arrests made by the British Transport Police. Football-related incidents have played a big part in overall crime on the railway increasing by four per cent.
Of the incidents where a Premier League football club was mentioned, West Ham were responsible for the most with 10% of all arrests – with Manchester United, Manchester City, Arsenal and Chelsea next on the list.