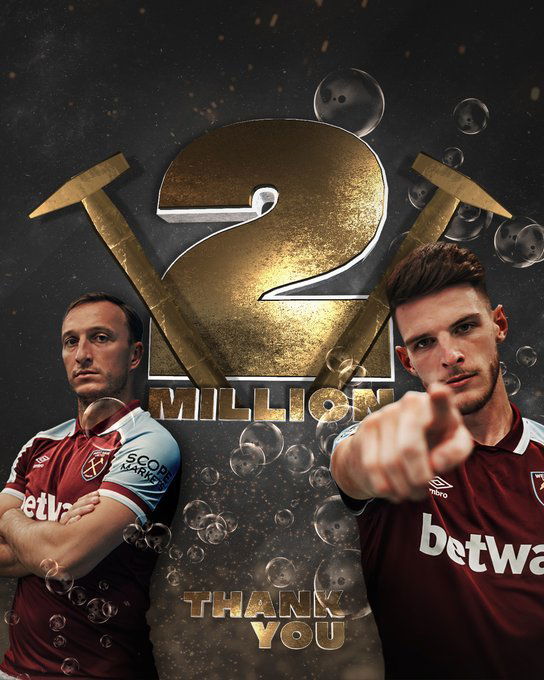 West Ham official twitter account passsed the two million follower mark yesterday.
The official club social media account was created  29 June 2010.
witter was created by Jack Dorsey, Noah Glass, Biz Stone, and Evan Williams in March 2006 and launched in July of that year.  Twitter has more than 330 million monthly active users.
The total number of Twitter users in the UK in 2020 was 16.70 million.
The Hammers rate nineth out of all twenty clubs in terms of numbers of followers on Twitter
Manchester United 27m
Liverpool 18m
Chelsea 18m
Arsenal 18m
Manchester City 10.5m
Spurs 6.3m
Everton 2.5m
Leciester City 2.1m
West Ham 2m
Newcastle 1.7m
Aston Villa 1.7m
Southampton 1.4m
Crystal Palace 1.1m
Wolves 893,000
Leeds United 805,000
Watford 799,000
Norwich City 786,000
Burnley 604,000
Brighton 435,000
Brentford 217,000
To celebrate the milestone the club are giving away home shirts signed by Declan Rice and Mak Noble who follwoers who RT and like their celebration post.
A winner will be announced this Friday they say.