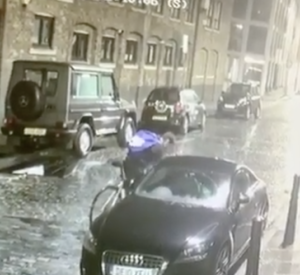 West Ham four-goal hero Michail Antonio has had his car tyres slashed today.
The 30-year-old Hammer took to social media to tell his 155,000 followers Instagram that his car had been vandalised in Wapping.
He posted a video of the perpetrator and said "I really don't understand… There is a guy going around Wapping slashing tires! 😡 Anyone know who he is? He got a few cars including mine so if you're in the area keep an eye out."
The criminal damage appears to be random and not targetted at the West Ham footballer who single handled relegated Norwich City last Saturday.
Michail re-posted the message on Twitter to his 97,000 followers asking if anyone knew who the criminal was and warned others in the Wapping area to be alert.
The video shows a cyclist at 2.40 am on Tuesday morning with a purple backpack puncture tyres of an Audi and a Landrover vehicle.