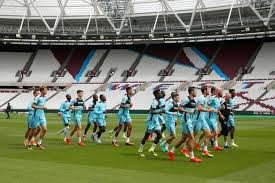 Slaven Bilic wants to train at the London Stadium and has been told it is not a problem.
"We can train here as many times as we want,' Slaven Bilic told reporters last week 'I asked for that. It's not a question of can we? We can.'
It is myth that West Ham only gets 25 days per year use of the stadium and more importantly the pitch as part of their £2.5m rental deal. In fact the contract says they get the whole use of the stadium a full 24 hours before each competitive match day and a full 24 hours after each match meaning they have exclusive use of the stadium for 75 days around competitive matches.
They also get a further two friendlies and two youth games at the operator's cost meaning that is another 12 days when factoring in the days around those four extra days.
Outside the main concessionaire agreement West Ham have a number of agreements with operators London Stadium 185. This is understood to include the use of the stadium for training purposes without paying the £100,000 per day additional usage charge which reserved for competitive matches.  The use of stadium for training is subject to availability and at least seven days notice. However it is likley that Stadium tours would carry on those training days including tours of the changing room and dugouts which could make the practicalities of such arrangements difficult and very much in the public eye unless West Ham covered the loss of revenue of the tours for those days.