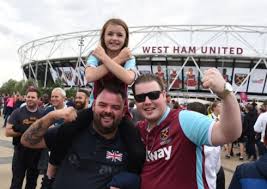 A recent freedom of information request to the Met Police has shown that West Ham have the least troublesome fans when it comes to arrests and banning orders in the Premier League within London.
Last season Chelsea had 108 football arrests on match days followed by Spurs on 49, Arsenal has 40 fans arrested while Crystal Palace saw 27 arrests. West Ham had the least arrests in London with just 18.
When it came to court issued football banning orders it was a similar story with West Ham with the least with just two new banning orders. Chelsea supporters received eight banning order, Spurs had six while Arsenal and Crystal Palace fans received four each.
West Ham, the Stadium operators and Met Police will hope tonight will be a quiet event without trouble after the incidents last October in the EFL cup which saw images flashed all around the world.  The London Stadium has been trouble free for nine home matches and the stadium stakeholders are holding their collective breath that tonight is just another game off the pitch.
Yesterday Chelsea football club warned their own supporters to behave on their official website and pleaded they stay away of trouble. Let's hope they heed those words.