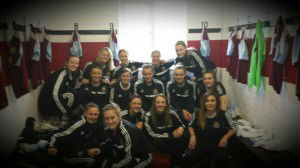 West Ham Ladies and The West Ham United Foundation have announced the launch the West Ham Ladies Learning Academy.
Previously only available to boys, the Learning Academy is a new two-year, full-time education and football development programme delivered by Soccer Coaching Ltd (SCL) which is open to all talented footballers aged between 16 and 18.
All Learning Academy players will receive daily training, including individual and team coaching from highly qualified FA coaches affiliated to West Ham. Players will receive guidance on their football fitness, nutritional advice and a regular appraisal to monitor each player's development both on and off the pitch. Players will have the opportunity to represent the Club through the Learning Academy side.
Over the two-year duration of the course, players will study a variety of nationally recognised qualifications across sport, coaching and fitness. Players will study the BTEC Diploma in Sport, delivered at Level 2 and 3 standards (A-Level equivalent), FA Coaching Qualifications together with core skills in Maths and English. Successful completion of the educational programme will enable players to follow pathways into Higher Education at selected universities or discover employment opportunities within the sport and leisure industry. Youngsters will also be encouraged to consider coaching placements and playing scholarships in the USA.
The WHU Foundation will be hosting two trials over June and July for prospective students:
Saturday 20th June – 10am – 12pm
Saturday 4th July – 10am – 12pm