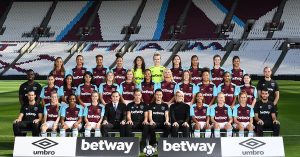 West Ham United Ladies will bid for a licence to play in next season's restructured Women's Super League.
West Ham Ladies currently play in the third-tier Women's Premier League Southern Division.
"We want West Ham to be at the very top of this new-look league structure," said managing director Jack Sullivan on the WHUFC.com.
"Now West Ham United Ladies are fully integrated into the club, the facilities and infrastructure that we are currently able to offer the squad – with the help and support of all departments at West Ham – is certainly befitting of a professional team."
All current Women's Super League clubs have until 10th November to re-apply to keep their places in the top flight, while sides outside the WSL can apply for a licence in March 2018
The criteria for a successful licence application includes full-time players, at least 16 contact hours a week for players – rising to 20 hours per week by 2020-21 – a minimum level of financial investment and an academy system in place at each club.