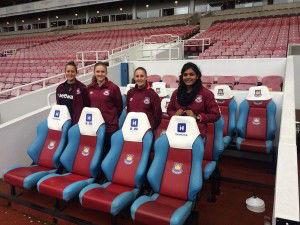 West Ham Ladies have announced they will be playing a match against Spurs Ladies under the famous Boleyn Ground lights on Tuesday 8th March at 7.45pm. Tickets are priced at £5 for adults and £1 for kids.
On their official ticket website the West Ham ladies write:
"We welcome the players and officials of Tottenham Hotspur LFC for this very special FA Women's Premier League match under the lights at the Boleyn Ground. We are aiming to the break the attendance record at a women's league match on one of the last ever games at the Boleyn.   Inquiries regarding Corporate Hospitality, including use of Private Boxes should be directed to hospitality@westhamladies.co.uk. Ladies Season Tickets are valid for this match.  If you do not hold a season ticket card but are entitled to one through the player sponsor scheme contact the club who will arrange a ticket to be issued to you.
"Many thanks to the Chairmen and staff of West Ham United for supporting the Ladies and helping us put this match on."
You can see an exclusive interview with West Ham Ladies Chairman, Stephen Hunt with our partners Hammers Chat below.