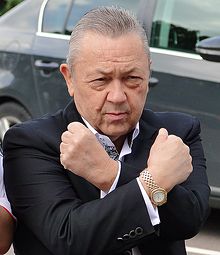 West Ham Chairman David Sullivan has told the club's official TV channel that a few West Ham legends will form part of Slaven Bilic's backroom team.
Sullivan told West Ham TV "It is very good for the Club and the supporters. We have taken a man who understands the West Ham Way. It is important how we play and that the players play with passion."
"I think he will bring a few of the West Ham legends to be part of his entourage and I think that is very good because it strengthens the bond with the supporters. He will take us into the Olympic Stadium and I think he will be here for a long time.
"We all want to pull together as a family and it is fantastic that we have someone who understands that. We have appointed a manager that we know the supporters wanted. He has a desire to win and I love managers who show they are part of the club.
"Slaven is a very commanding individual and has watched a lot of English football. He knew our players and came very well prepared for the interview. He knew the players he liked and the positions he wants to strengthen. We know it's a three-year project and said we would love to be in the top eight this season and do well in a cup competition."