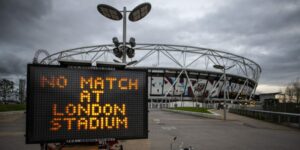 Premier League football matches could be played away from London when football resumes because London is a hot spot on the pandemic.
The Telegraph claims that talks between the stakeholders including the Premier League, Football Association and EFL are already underway and have included the possibility of taking games to alternative venues in the process of returning to action safely.
At the weekend it was recorded that London had 39 per cent of the UK's 5,018 confirmed cases.
Spurs, Arsenal and West Ham's stadiums hold more than 60,000 supporters. Whether matches need to be held elsewhere has been discussed over the past week between administrators after football closed its doors to allow the pandemic to be tackled.  Neutral grounds for league matches would be one solution should football be moved from the capital.
Claret and Hugh say
It comes as no surprise that this option is being discussed but if implemented it would need to be a level playing field for all teams to ensure fairness and that London teams are not penalised just because of their locations.  If London teams are forced to play at neutral grounds maybe all games should be played at neutral grounds. There are so many twists and turns relating to completing the football season and this is just one of many options being considered
The Premier League will resume talks about the impact of the coronavirus at its next club meeting, which has been scheduled for April 3.
It has been reported that the Premier League is scheduling a plan which involves games resuming from June 1, which will be played behind closed doors, which would allow the 2019/20 campaign to be concluded by August 8  the weekend that would have seen the 2020/21 season kick-off in normal and usual circumstances.