The latest West Ham news has been buzzing with excitement as Declan Rice, one of the most sought-after football talents in England, is reportedly on the verge of a massive transfer with PSG rumoured to be entering the bidding. As the Hammers' star midfielder, Rice has attracted interest from several top-flight clubs, and it seems that a deal may be in the works.
West Ham United's golden boy, Declan Rice, has enjoyed a meteoric rise since joining the Hammers club's youth academy at the age of 14. Born in London, the 24-year-old English international has established himself as a key player for both the Hammers and the England national team. Rice's commanding presence in midfield and his ability to control the tempo of the game have made him a fan favorite at London Stadium, although a certain Graeme Souness may not agree.
In recent weeks, the West Ham news has been inundated with rumours about Rice's potential transfer. Top clubs like Manchester United, Chelsea, Manchester City and in particular Arsenal have all been linked with the talented midfielder. Speculation has been further fuelled by Rice's contract situation, as his current deal with West Ham is set to expire in 2024 but the club retain the option of a two year extension.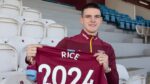 Losing a player of Rice's calibre would undoubtedly be a massive blow for West Ham United. Manager David Moyes will face the challenging task of finding a suitable replacement for his midfield maestro, if he is allowed to remain at the club following a poor season. However, the substantial transfer fee the Hammers would receive for Rice could help strengthen the squad and bring in reinforcements, but whether Moyesie would be allowed to spend that money is another matter.
As one of England's most promising talents, Declan Rice is expected to command a substantial transfer fee, with estimates ranging from £70 million to £100 million. West Ham will likely use these funds to bolster their squad and invest in potential replacements, with names like Kalvin Phillips mentioned as potential targets. The Phillips link may well be just lazy transfer speculation though, only yesterday a top source at West Ham suggested to Claret & Hugh that Phillips was too injury prone.
The West Ham fanbase has been understandably anxious about Rice's future, with many supporters resigned to the fact that Declan will leave the Hammers. However, with PSG entering the fray there is an opportunity for the club to encourage a bidding war and increase his value.