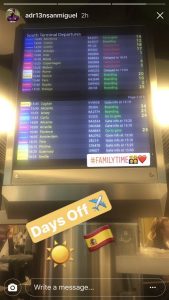 Some West Ham players have taken advantage of the International Break to jet off with their families for the weekend.  Adrian posted a photo from the airport on his way back to Spain saying "Days off" and "Family time"
However, Hammers players are only taking their contracted two days off per week and must return to training on Monday afternoon. Some supporters have wrongly assumed that Bilic has given the players extra time off but in fact, the only small concession is the change of the Monday training session from morning to afternoon.
The first team squad minus international duty players trained from Tuesday to Friday this week after the defeat against Newcastle last Saturday and were given Sunday and Monday off as stipulated in their contracts.
The work to prepare for Huddersfield home game starts on Monday afternoon with International duty players given a few days off before their return to the squad.