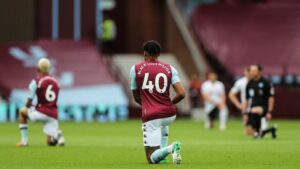 West Ham players are expected to take the knee on Saturday at the London Stadium in the same way Sheffield United, Aston Villa, Manchester City and Arsenal players did last night when the Premier League resumed.
Players names were replaced by the words Black Lives Matter and players wore BLM patches on their arms.
All players, staff and officials at Aston Villa's home match against Sheffield United took a knee in support of the Black Lives Matter movement as the Premier League resumed on Wednesday. Two hours later, Manchester City and Arsenal players did the same in a show of solidarity with the global reckoning on race and discrimination, which was sparked after protests against the police killing of George Floyd. The matches marked the return of Premier League football after a 100-day hiatus.
Villa and Sheffield released a joint statement saying "Aston Villa and Sheffield United were proud to stand in solidarity with the actions of the players and coaching staff of both football clubs during the first 10 seconds of tonight's Premier League fixture, expressing our collective support for the Black Lives Matter movement.
"In the first Premier League fixture of Project Restart, both clubs hope that the act of 'taking a knee' will send a strong message of unity and amplify the many messages of support from Premier League players and the wider football family.
"The directors of both clubs, Dean Smith, Chris Wilder, Jack Grealish and Billy Sharp and the players of United and Villa are in full support of this action."