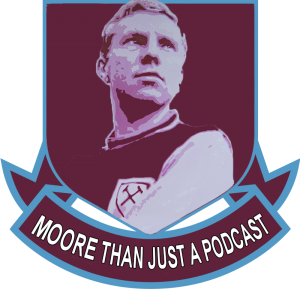 Episode fourteen of season ten of the popular West Ham podcast Moore Than Just A Podcast is now available to listen to online or download.
Join Claret and Hugh associate editor Sean Whetstone with fellow podcast presenters Nigel Kahn and Canning Town Len discussing another draw, this time against former Premier League champions Manchester City and an unbeaten run of four games and eight points.
We discuss possible plan B's if Michail Antonio is not available for the trip to Anfield as well as various West Ham news stories over the last few days on Claret and Hugh. The podcast crew answer questions submitted by our collective audience on Facebook and Twitter.
Download or listen online at https://play.acast.com/s/moorethanjustapodcast/
This two hour and nineteen-minute episode was recorded on the Monday evening of the 26th October It is available on all popular platforms to listen online or download including Acast, TunedIn, Player.FM and ITunes
Now also on Spotify too at MOORETHANJUSTAPODCAST
Join the discussion on the MTJAP Facebook group at https://www.facebook.com/moorethanjustapodcast/