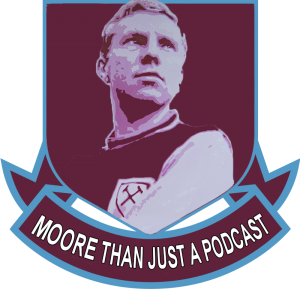 Episode thirty one of season eight of the popular West Ham podcast Moore Than Just A Podcast is now available to listen online or download.
Claret and Hugh Associate editor Sean Whetstone with fellow presenters Nigel Kahn, George and John Bucci are back to discuss the first goal to be scored at Spurs new stadium and as well as the first away win against Spurs in their new gaff.  There is a transfer news update as well as a look back at Tevezgate as Sheffield United stand on the brink of a return to the Premier League
We also answer many questions from Facebook and Twitter sent in by listeners and discuss predictions for Southampton at home on this 52 minute episode.
Download or listen online at www.moorethanjustapodcast.co.uk
The podcast was recorded on Monday evening of 29th April. It is available on all popular platforms to listen online or download including Acast, TunedIn, Player.FM and ITunes
Now also on Spotify too at MOORETHANJUSTAPODCAST
Join the discussion on the MTJAP Facebook group at https://www.facebook.com/moorethanjustapodcast/