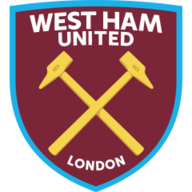 Over a quarter of Claret and Hugh readers polled on Christmas Day believe the Hammers will earn four points over the next three games over the festive period meaning one win, one draw and a loss.
Nearly one thousand supporters took part in yesterday's poll with just under 4% saying we would lose all three games, another 4% saying we would earn one point and another 4% suggesting we would earn two points.
8%  of fans believe we will amass three points while nearly 16% think we will get five points in total, another 16% believe we can get six points with 14% believing seven points are possible over the next three matches. An ambitious 8% believe we can earn all nine points with all three wins.
First up is Southampton away at St Mary's  tomorrow evening. The pair first played in 1898 with the Hammers winning 75 games so far, 50 losses and 46 draws. Following the Saints is Burnley away at Turf Moor on 30th December, the Hammers first played the Clarets in 1923 and since then has won 37 games, lost 32 and drawn 18. Finally, we are back at home to face Brighton on 2nd January in the first game to be played at the London Stadium with a 60,000 capacity. We first played Brighton and Hove Albion in 1903 in the old Southern First division. We have won and lost 18 games each with a further 14 games drawn.
Full Results: 0 (34) 3.7%, 1 (39) 4.24%, 2 (28) 4.13%, 3 (77) 8.37%, 4 (233) 25.33%, 5 (146) 15.87% 6 (147) 15.98%, 7 (132) 14.35% 9 (132) 8.04%