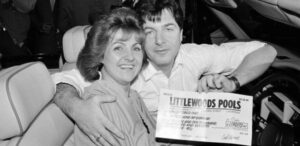 Football pools, often referred to as "the pools", is a betting pool based on predicting the outcome of football matches taking place in the coming week.
The traditional and most popular game was the Treble Chance, now branded the Classic Pools game. Players pick 10, 11 or 12 football games from the offered fixtures to finish as a draw, in which each team scores at least one goal. The player with the most accurate predictions wins the top prize, or a share of it if more than one player has these predictions.
Entries were traditionally submitted through the post or via collector agents
Littlewoods, Vernons and Zetters were the largest pools companies. Littlewoods was the first company to provide pools, selling them outside Manchester United's Old Trafford ground in 1923. In 1986, a syndicate of players became the first winners of a prize over £1 million.
The pools business declined after the introduction of the National Lottery in 1994.
One important part of the pools was the pools panel
Many matches were postponed in the winter would often have their results adjudicated, for the sake of the football pools results, by a board known as the Pools Panel which had been formed in 1963 when a particularly cold winter scrapped football for three weeks running. Early members were ex-footballers and referees.
With West Ham's remaining nine fixtures uncertain we ask you to be the pools panel for the nine games deciding a simple win, lose or draw below.
[crowdsignal type="iframe" survey="010C5C58165BB11F" height="auto" domain="seanyw" id="untitled-survey-9″]
https://seanyw.survey.fm/untitled-survey-9