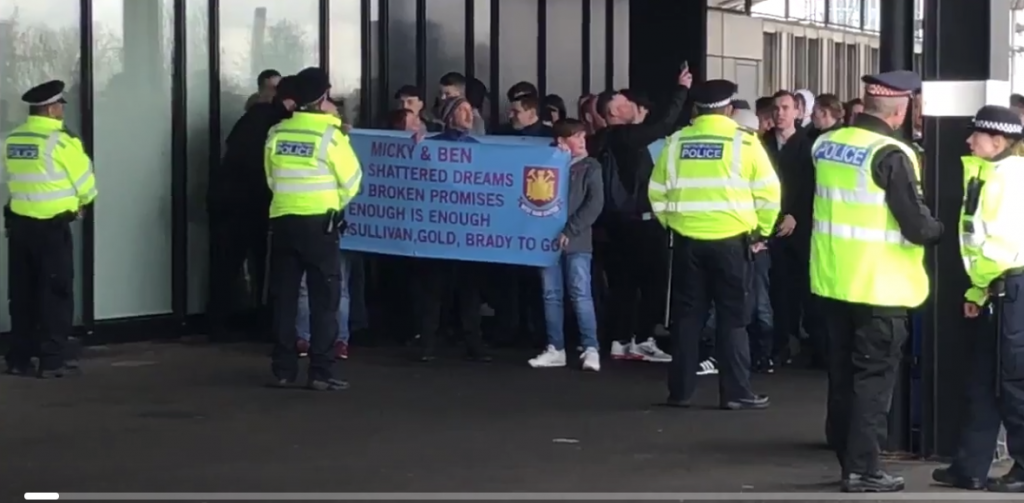 Met Police estimated that around 50 supporters turned up for a West Ham ramble protest from Stratford Park to London Stadium before yesterday's 3-0 win. The peaceful walk was arranged on a KUMB forum by readers. Another estimated 200 supporters took part in a static demonstration organised by a number of Facebook groups outside the London Stadium directors entrance although those who took part in the static demonstration gave estimates of between 400 and 1,000.
Both protests ended peacefully and there was no trouble.
Whatever the real numbers were, what is not in doubt is that over 50,000 supporters got behind the team when the kick-off whistle blew. The army of pitchside stewards with football boots and safety glasses were not needed nor were the new barriers or extra police presence as the game finished without troubles or protests within the stadium. There is no doubt that early West Ham goals helped calm the anxiety and frustration previously felt in the stadium which has felt toxic at previous games. The football boot cladded stewards, barriers and police are here to stay for the remainder of the season but I don't think they will be needed.